Moon Landing Stamps First Day of Issue
On the first day of the Minnesota Stamp Expo (Friday, July 19, 2019), the United States Postal Service will issue a set of two Moon Landing stamps in Cape Canaveral, FL to mark the 50th anniversary of the first moon landing. One of stamps features a picture of Buzz Aldrin standing on the moon with Neil Armstrong shown in the reflection of Adrin's helmet. The other stamp depicts an image of the moon with a yellow dot indicating the landing site of the Apollo 11 lunar module. An image of the lunar module is included in the selvage of the pane of stamps.
To celebrate the moon landing anniversary and the release of the stamps, a special First Day of Sale ceremony is being held in conjunction with the Minnesota Stamp Expo. The ceremony will be held at 11:00 am at the Crystal Community Center and will feature Foster Miller (American Ceremony Program Society Vice President) as emcee and remarks by Scott English (American Philatelic Society Executive Director), William Jones (Minneapolis Postmaster) and Dr. Holly Menninger (Bell Museum Director of Public Engagement and Science Learning). While supplies last, each attendee will receive a free commemorative ceremony program design by Chris Lazaroff (American First Day Cover Society Past President). Following the ceremony, participants in the ceremony will sign the programs.
The USPS will be selling the Moon Landing stamps during the show and attendees can affix the stamps to the ceremony program and cancel the program with a Minneapolis First Day of Sale cancel or a round date cancel. On Saturday, July 20, the actual 50th anniversary of the first moon landing, a special Moon Landing pictorial cancel will be available. To celebrate the actual anniversary, a series of Apollo 11-themed movies are tentatively planned to be shown on the bourse floor.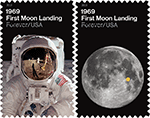 Last Update: 07/10/19