Moon Landing Stamps First Day of Issue
On the first day of the Minnesota Stamp Expo (Friday, July 19, 2019), the United States Postal Service will issue a set of two Moon Landing stamps in Cape Canaveral, FL to mark the 50th anniversary of the first moon landing. One of stamps features a picture of Buzz Aldrin standing on the moon with Neil Armstrong shown in the reflection of Adrin's helmet. The other stamp depicts an image of the moon with a yellow dot indicating the landing site of the Apollo 11 lunar module. An image of the lunar module is included in the selvage of the pane of stamps.
To celebrate the moon landing anniversary and the release of the stamps, a special First Day of Sale ceremony is tentatively being planned in conjunction with the Minnesota Stamp Expo. A ceremony marking the actual anniversary of the landing (July 20) may alternately be planned for Saturday.
Details of the event(s) are pending - check back for confirmation of the events and more information!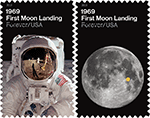 Last Update: 05/29/19